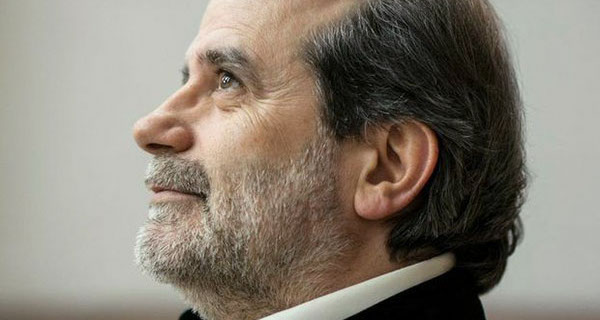 ANDREA MARCON Conductor, organist and harpsichordist, in 1997 was the creator and initiator of ECHO.
Andrea Marcon was born in Treviso in 1963. After his studies in Italy, he received a diploma in Early Music from Basel's Schola Cantorum Basiliensis for his organ and harpsichord studies with Jean-Claude Zehnder and conducting with Hans Martin Linde. In 1986 he won the first prize at the "Paul Hofheimer" Organ Competition in Innsbruck and in 1991 the first prize at the Harpsichord Competition in Bologna. He also studied with Luigi Ferdinando Tagliavini, Hans van Nieuwkoop, Jesper Christensen, Harald Vogel and Ton Koopman.
Mr. Marcon was the initiator of the early music ensemble Sonatori de la Gioiosa Marca (1982) and founder of the Venice Baroque Orchestra (VBO) in 1997, leading the group to international acclaim. His dedication to the rediscovery of early music masterworks led him to the first modern-day execution of works by Vivaldi, Caldara, Alessandro and Benedetto Marcello, Galuppi, Haendel, Cimarosa, Boccherini. Today Marcon is widely recognized as a leading interpreter of the Baroque and Classical periods. He is a regular guest conductor at the Frankfurt Opera, Theatre Basel, Amsterdam Opera House, Salzburg Summer Festival and Aix-en-Provence Summer Festival where he conducted Haendel's Ariodante and Alcina in 2014 and 2015. He has been invited by the WDR, HR, NDR symphony orchestras, Orchestre Philharmonique de Monte Carlo, Danish National Orchestra, Mahler Chamber Orchestra, Symphony Orchestra of Granada, where he has also been appointed artistic director from the season 2012/13. In October 2012 he made his highly acclaimed debut with the Berlin Philharmonic Orchestra and in 2015 with the Bavarian Radio Symphony Orchestra. Andrea Marcon has recorded more than 50 CDs as a soloist and conductor. For his recordings he has been awarded four times with the Deutschen Schalplatten Kritik, Diapason D'Or, Choc du Monde de la Musique, the Vivaldi Award of the Cini Foundation, Germany's Echo Award and two times the Edison Prize as well a Grammy nomination in 2015. In 2011 he was named harpsichord professor at the Mozarteum in Salzburg.
He recorded several CDs for Deutsche Gramophone, Archiv, Sony Classical, and Erato. He is professor of harpsichord, organ and interpretation at the Schola Cantorum Basiliensis. He also founded and served as artistic director for twentyfive years the International Organ Festival "Città di Treviso". He undertook with success the plan of the restoration of all city's historic organs and the reconstruction of the renaissance organ in the Museum Church of Santa Caterina where he has been named curator from the City Council.